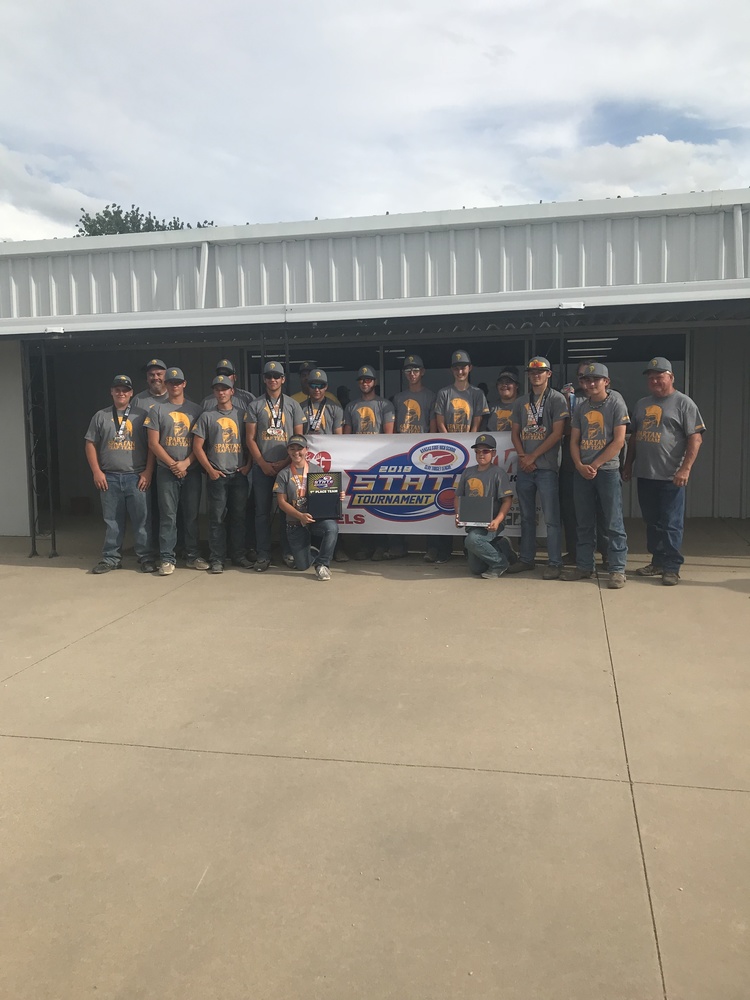 2018 STATE CHAMPIONS!
KB Criss
Monday, July 09, 2018
By JOEY SPRINKLE CourierTraveler Sports Editor
SEDGWICK, KANSAS
The Cedar Vale/Dexter trap team captured a state championship June 16 in the third annual Kansas State High School Clay Target League State Tournament at the Kansas Trapshooting Association complex.
The team is made up of 15 students ranging from sixth through 12th grade, competing among 870 junior high and high school student-athletes representing 53 teams from schools across Kansas.
Cedar Vale/Dexter scored 479 out of a possible 500 points to capture the state title in Class 1A. Chapparal High School was runner-up with a score of 471 and Bishop Carrol placed third with a score of 461.
Cody Bliss scored a 99 out of 100 to take High Gun overall and first place in High Gun Varsity Male.
Tracy Sweaney scored 98 to finish third in High Gun Varsity Male.
Emma Speer scored an 87 for third place in High Gun Varsity Female.
Bliss and Sweaney were recognized for shooting a straight 50 in two back-to-back rounds.
Kyl Kuntz, Braden Snyder, Ethan Wallace and Logan Wallace, along with Sweaney and Bliss were recognized for shooting a straight 25 round during the tournament.
The Spartans also received recognition during the 2018 Spring season for winning the Conference 4 title.
Individual recognitions for Conference 4 included a three-way tie for top male shooters between Jasper Young, Arik Artherton and Sweaney.
Speer was champion in the Conference 4 female shooter division, with Josie Gage the runner-up.
Sweaney, Artherton, Logan Wallace, Young, Snyder and Bliss had season-average scores that placed them in the Kansas All State 100 group.
The Spartans also captured the Class 1A State title in 2017.
The league has grown considerably, with 1,232 students representing 58 Kansas schools in 2018.
KSHS Clay Target State Tournament
June 16 at Kansas Trapshooting Association
Cedar Vale/Dexter Results
Cody Bliss99
Tracy Sweaney98
Kyl Kuntz95
Logan Wallace94
Braden Snyder93
Arik Artherton91
Cole Criss89
Jasper Young87
Ethan Wallace87
Emma Speer87
Jacinda Call83
Josie Gage82
Mason Randall82
Brody Lenington82
Jeanie Gage59